We gather the latest episodes here in case you'd like to consume them in moderation – or excessively on our podcast and Youtube channels.
What Do Design Recruiters Look For?
We chatted with Christina Nguyen, creative recruiter specialized in helping designers and other creatives put their best foot forward in the competitive hiring landscape.
How I Landed A UX Design Job At Apple With Confidence
We spoke with Anna Istomina, former UX designer at Apple, on how she landed a UX design job without too much experience.
What It Means To Be A Multi-Hyphenated Creative
We spoke with Lily Ciric Hoffman, a UX designer, instructional designer and educator, who is the true embodiment of a "multi-hyphenated creative".
How Can UX Designers Become Better At Visual Design?
We spoke with Oren Dayan, a UX designer who transitioned from a business career and have now picked up excellent visual design skills. He share valuable tips and tricks for UX-ers who are afraid of visual design or have been putting it off. He also explained his brainstorming process and how he gets unstuck in design.
How He Landed A 6-Figure UX Design Job As A Bootcamp Grad
Kerry McPhearson is a passionate UX designer who landed a 6-figure UX design job shortly after graduating from a bootcamp. He told us what made him stand out and how bootcamp grads should expect to over-deliver in a competitive job market.
From Dance Entrepreneur To UX Designer
Donna Carroll was a dance entrepreneur and apparel designer. When the pandemic hit, she knew she had to find a new path. She spoke to us about how she found her way into UX design and how our Portfolio School program at Path Unbound has an impact on her job search.
The show for the unconventional

We often listen to podcasts and watch videos about people making all the amazing achievements, but often times, we are too far off from getting to where they are. We want to tell stories in a different way – we tell the stories of creatives who are still making it.
Of those people, some of them have great stories full of a-ha moments and we are so grateful that they agreed to share them with us.
We gather the latest episodes here in case you'd like to consume them in moderation – or excessively on our podcast and Youtube channels.
Our guests come from all creative disciplines – they come from all over the world and look a lot like many of us.
Nithya Asokan
UX & CX Designer
Nithya Asokan is a UX and CX designer. She has a background is graphic design as well as in marketing and sales before UX.
Jason Tremblay
UX Designer
Jason Tremblay had a career in property management before transitioning to UX design.
Oren Dayan is a UX designer. He was previously a business analyst and project manager.
Donna Carroll transitioned from a career in dance entrepreneurship and apparel design to UX Design.
Sam Harper transitioned from a career in marine biology, film making to UX design.
Ronel Mor
Design Professor, Entrepreneur
Ronel Mor has decades of experience has a design professor. He is also the founder of Dutch Uncle.
Christina Nguyen
Creative Recruiter, Career Coach
Christina Nguyen is a creative recruiter and a career coach specialized in helping early-career creatives and career changers.
Lily Ciric Hoffmann
UX Designer, Instructional Designer
Lily Ciric Hoffmann is a UX designer and instructional designer. She has worked with the federal government and studied multimedia in college.
Sofia Garcia
Creative Technologist, Art Dealer
Sofia Garcia is a creative developer and a digital art dealer. She is a leader in new media art and technology.
Eleftheria Anastasiadou
UX Designer
Eleftheria Anastasiadou is a UX designer. She transitioned from a career in dance and personal training.
Kerry McPhearson
UX Designer
Kerry McPhearson is a UX designer. He previously worked in logistics and has a background in music.
Samuel Kang
UX/UI Designer, Illustrator
Samuel Kang is a UX designer, visual design, illustrator, painter and creative developer.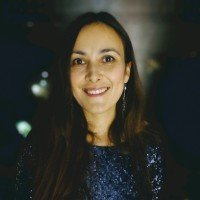 Anna Istomina is a UX designer. She has worked with renown companies like Apple as a designer.
Silvia Script
Visual and UX Designer, Educator
Silvia Script is a visual and UX designer. She is a lead instructor of design at General Assembly.
Dingding Hu is an award-winning commercial illustrator. She specialize in illustrating food contents and has a growing brand of her own.
For those of you who prefer reading, we have in-depth summary articles for you.
Founder and CEO of Path Unbound, Stella Guan, had the chance to talk with one of her previous students, Oren Dayan, who is a UX designer. Dayan believes that learning about visual design can be a great asset for UX designers, even if they just dabble in it.
Founder and CEO of Path Unbound, Stella Guan, had the opportunity to interview Christina Nguyen — a creative recruiter and career coach whose candidates have worked with Facebook, Samsung, Microsoft, and Amazon — where they discussed what companies look for in designers.